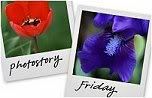 Hosted by Cecily and MamaGeek
Tuesday night I was very lucky to be able to meet up with some other wonderful mommy bloggers from RI and Mass (
Kameron
,
Liza
,
Rachael
,
Andrea
,
Lisa
,
Felicia
, and
Beth
). I was also very lucky to eat my fill of yummy melted dark chocolate (there was dinner too, but really the melted chocolate is what really mattered).

This was my first visit to "The Melting Pot", hopefully not my last. I can think of few meals better than one that revolves around fondue, what a wonderful social event in just the eating and sharing of the abundance on our table. And of course, what could be better than ending a meal with melted chocolate (well as Andrea pointed out starting a meal with melted chocolate would be....but besides that).


It was so fun, and so what I needed. I can't imagine it having gone better. I will admit I was a little fearful walking into it, what will I have to say to these women I have never met, what will fill the awkward getting-to-know-you silences? My fears were unfounded...I should have known, 8 women with so much to blog about will have plenty to say face to face!!! There were no awkward silences...there were no silences at all!! As a matter of fact, we were the loud ones at the resteraunt, we were that table, the one that everyone glares at, half wishing we would be quiet, half wishing they could join in the fun!!



I have to say the choice of food also helped the situation. Have you ever had fondue? It is not a shy meal. If you want to eat you have to get right in there with your oversized fork with its colorful plastic handle, you have to reach around, over and through to taste each of the cheeses. And forget about it at desert, if you are not the least bit bold the only chocolate you will enjoy will be the drippings that fell from your neighbors fork as they dipped another lovely strawberry into the rich dark chocolate in front of you. What a wonderful, chaotic, lovely meal!!


I am sure I will be the first from our little soiree to blog about the festivities, but I know I won't be the last (really, who is up this late blogging...Not Me...but that is for a different post). Keep and eye out for even more pictures and stories of this fabulous night, check out my IRL and local blogger friends (now almost all one in the same) for what they have to say about this lovely evening.


Thanks for a wonderful night ladies....we definitely have to do this again...and often!!