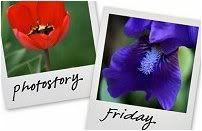 Hosted by Cecily and MamaGeek
Reaching back into the archive...I started my blog as a way to record for my boys, for my family, what is going on in our lives, as well as what has happened. I want my guys to be able to look back through this and see us - the love we have for them and the love we have for each other.
............
July 2005: A week after our wedding Dan's cousin had a destination wedding in Mexico, they asked Dan to be a groomsman, so we agreed to have our honeymoon coincide with their wedding (hey who else can say they went on their honeymoon with their in-laws...seriously, they were in the same building as us at the resort!!)
The trip was amazing - we went on a sunset cruise, learned how to SCUBA, went snorkeling, and just had a wonderful time!! I would love be somewhere so warm right now!!!
Dan and his Mom
Edited to add: My in-laws on this trip consisted of about 15 or 16 people (from the extended family), and that's not even close to half of them. I married into a huge wonderful loving family!! I am blessed to be able to say they were on my honeymoon AND I actually enjoyed their presence (they did give us plenty of space!!)