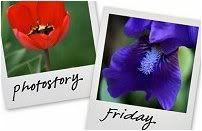 Hosted by Cecily and MamaGeek
We had a big day Wednesday...all happening
after
5 pm. I actually managed (despite my crazy schedule and the crappy weather) to get home early, so Dan and I went together to get the boys and take them to get haircuts...Jack's first haircut actually.
Tommy was such a big boy - went first to show Jack that there was nothing to it. This is the first time I have taken Tommy and there has been no tears.
Jack was an angel - he just sat there and watched us as his hair was cut. He was so good letting her manipulate his little head. He sat as still as any 10 (almost 11!!) month old baby could.
Not only did Jack get his first haircut, but he is now drinking from a sippy cup (or has the ability to, doesn't always want to) and standing with almost no support. AND......
He took his first real shower with Daddy last night.....