Reaching back into the photo archives for this one.  Tommy was just 3 months when we took him for his first trip up to see our friend in Burlington,  VT.  It was a 4+ hour drive, and somehow we had to manage it with a breast feeding baby (I learned how to pump in the car if you really want to know).  We were very lucky that he slept most of the trip, and really just seemed to enjoy the car ride.
The weather was a little warm for October and it was wonderful - we were able to take Tommy disc golfing with us (I have to say that was an interesting experience) and just enjoy how beautiful Vermont is in the early fall.   It was a great trip to see our friends and let them meet our first little joy.
Looking at these pics I am amazed with how little Tommy was and how much he has grown.  I am so happy that we have these fun little memories to look back on with our sons!!!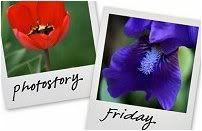 Hosted by Cecily and MamaGeek