Bloggy style that is.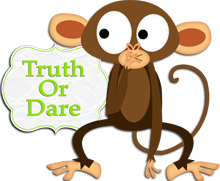 As you can see by the countdown (over there....top left...yup....that's it), my 1 year blogaversary is fast approaching....so lets play a game.
I have been wanting to do a "Ask Me Anything" post - but honestly - I was afraid I would be that winner that got all of 3 questions....but I figure for my blogoversary maybe y'all will come out to play with me (please?). I know there are many of you there, so now is the time to pop out and say hello....
So this is my Ask Me Anything post....with a twist.....like I said, lets play Truth or Dare - ask me anything OR if you'd like, give me a "dare". Challenge me to do something, something I can capture with my camera.....give me a dare.....
My official blogaversary date is May 19th, I would like to post my results/answers that day so (for the dares anyway) the sooner you get them to me the more likely I can do them.
Don't worry...I won't just be playing a game that week. I will be hosting giveaways every day that week as well....I won't say what just yet...but if you follow me and know my hobbies you might be able to make a guess at a few of the prizes (...and if you have/create anything you would like to add to the mix I would welcome that as well). And playing along in my truth or dare with me WILL earn you extra entries.
Oh....and because I like monkeys....
I've made a button for my truth or dare game....
this is really a "the more the merrier" event....
...if you want to play along I say do it...
Let me know....I'll truth or dare you right back :)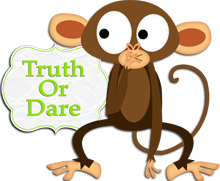 So you have a month....ask me a truth....give me a dare....increase your chances of winning a prize....really its a win-winThe Party will be rocking May 12 - 19th