As I eluded to last night I am taking part in the New England Blogger's May Day Giveaway, hosted by Elizabeth at Thoughts From an Evil Overlord.
So of course I am giving you the chance to win this...
One of my stripey mini tote bags. The finished size of the bag is 9 inches tall by 10 1/2 inches wide. The bottom and straps of each bag are made from heavy duck canvas and topstitched for added durability. I have to admit that I have been using one of these bags all weekend and I love it!!! It is the perfect size for quick trips and errands and is so bright and cheery!!

The winner will have the option to select from a variety of fabrics for their tote!!

In addition to the tote the winner will also get a
lovely surprise gift inside
!! (I just love surprises)
The Rules:
You do not need to have a blog to enter, just be sure to leave your contact information in your entries
I am sorry but right now I am only shipping to the US and Canada
To enter once all you have to do is leave me a comment
(easy enough)
For additional entries
- Follow my blog for 1 additional entry
- blog about the NE May Day Give Aways for 1 additional entry
- Play truth or Dare with me for 3 additional entries (click on the Truth or Dare Monkey)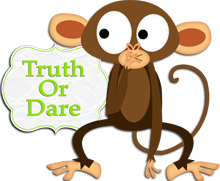 - Post about my blogaversary game of Truth or Dare (complete with button) for another 3 entries.
Be sure to leave me a comment for each entry, as well as a way to contact you if you do not have a blog or if your email is not enabled.
Winner will be selected using Random.org on the evening of May 1st.
And don't forget to check out all the giveaways happening:
Art from the Heart - Catherine in ME
Basia-Spirit Space - Barbara in MA
The Book Kitten - Kitten in CT
Fabric 'N Fiber Fanatic - Sara in NH

Life, as it is...
- Tara in MA

My Secret Garden - Sue in MA
Penny's Art Room - Penny in ME
Penny-Wise People
- Colleen in NH
Raise Your Hand If... - Carol in MA
Seriously, No Seriously - Michelle
Thoughts from an Evil Overlord
- Elizabeth in MA