After yesterday's post I received several questions about my tattoo. I thought it would be fun to do a little tattoo expose. (I really need to figure out how to do the little accent mark over my letters)

#1 Celtic Tree of life
So I have 4 tattoos, the one I showed yesterday was the first, from May 1998.
This is the celtic tree of life. Here is an interesting article about the tree of life and designing a tattoo around it. You can Google celtic tree of life and get multiple definitions/explanations. I could tell you what I have found, what I have read, but instead I will tell you what it means to me.
The tree of life symbolizes the strong connections between heaven and hell, and life and death. If you look at a drawing of the tree of life it has no beginning and no end, the line never starts or stops, it is continuous. This is so much like life - there is no isolated moment, no event that can be removed without effecting the others. I may have done things that I am not proud of, I may have made decisions that I shouldn't have, but I live with no regrets, I am happy with my life right now, some circumstacnes may need to change, but I am happy and I know that all of the events, good and bad, are part of what led me on the path to where I am now.
#2 Celtic Dogs/Dragons Fighting
from an image I found in a book on celtic jewelery.
Winter 1998/1999 (don't remember exact date)

I don't have the picture that was used to draw my work - it was a piece custom for me. The image above is the closest image I can find.
This is the best I could do for images of my arm...I thought it was hard to take pics of my wrist!!!
Tattoo #3...yes that is a pez.
I used to collect pez, this tattoo was drawn from an MIP (mint in package) Japanese import - dinosaur with a crystal head. This tattoo is the amazing result of 5+ hours of work performed on my left shoulder blade. I am also very proud of the fact that the picture above was taken by the artist who did my work (he has done ALL of my work) and was featured in an article about him - in Tattoo Revue issue #69
Tattoo #4
the Kanji symbol for love.
January 2000
yes I am positive this says love - an old coworker of mine, this sweet little lady from China, walked up to me one day and said...
"Do you know that the back of your neck says Love"
I said....
"Thank God!!!"
I will say I was pretty confident this was Love when I got it tattoo'ed on me. I did not find the symbol as a piece of flash on the wall at the studio, I had researched different symbols representing Love, I found this one on a website for students studying Kanji.
This is located on the back of my neck - it was one of the simplest and quickest tattoos I have, and by far the most painful!!

***********

So that is my photo story for the week - the story of my art collection. I had actually had a fifth and very large piece planned (it was all drawn and beautiful) but got pregnant with Tommy, I just haven't been able to justify spending that sort of money on myself now that I have the boys around.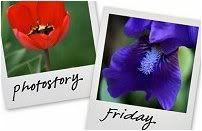 Hosted by Cecily and MamaGeek