I think I am officially getting a handle on this SAHM thing. The other day it was raining (again) and of course my boys were FULL of energy (aren't they always?!) so we cranked up the radio and let the dancing begin!!


Can I tell you there is nothing more exciting than watching two little guys dance


They don't care what they look like


They don't care about the moves

All they care about is feeling the music and loving every moment of it!!!


I loved every moment of it too!!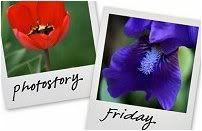 Hosted by Cecily and MamaGeek