Once again I participated in one of Mamarazzi's fantastic swaps - this one with a fun red-white-and blue theme.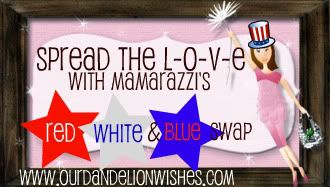 I was so excited when I found out that my new friend Rachel from Once Upon A Miracle would be my swap partner.....I was even more excited when I received the package today (who doesn't like a nifty package on the doorstep?!).

Wouldn't you be excited? Look at the lovely box she sent it in...


So incredibly thoughtful, there was something for everyone.




I love the cute little plates for the boys!! (monkey plates of course)....

And the blueberry tea smells devine - I can't wait to try it!!

And with more rain predicted...the sugar cookies will be put to use this week - a fun project for me and the boys!! As will be the star shaped ice cubes (so fun to put in our drinks) and the glittery stickers!!



Thank you so much Rachel for my lovely gifts!! I love them all so much!!

Sorry I didn't get more pictures, the boys came home early and everything got put away!!