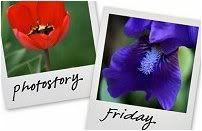 Hosted by Cecily and MamaGeek
Since I first used one at my MIL's house I have been wanting a stand mixer...a nice kitchen Aid maybe. I was never able to get one - they cost too much. And our kitchen is on the small side so I don't even know that I could justify the loss of counter space right now...or at least that is what I thought until I found this in my mother's basement..
Isn't she pretty...
This was my grandmother's mixer. It was a little dirty, but I cleaned it up as best I could and best of all...it still works.
So now I have my mixer...and it is totally worth the loss of counter space!!